The FAIR Digital Objects Forum is pleased to announce the call for abstracts for FDO2022. This in-person conference will be held 26-28 October 2022 in Leiden, The Netherlands.

The abstract submission call is now closed. It is no longer possible to submit an abstract.
Deadline for abstract submission: 10 July 2022.
Abstract submission is via Pensoft's ARPHA writing tool and accepted abstracts will be published in their hosted journal, Research Ideas and Outcomes (RIO).
Detailed instructions for submitting abstracts may be found here, however, please read this entire page before proceeding.
Abstracts are required for all oral presentations and posters but none are expected for workshops or other types of group meetings. Payment and registration for the conference is required by 19 September 2022 for acceptance and publication of all abstracts. Registration is now open.
Abstract submission instructions
Begin Abstract submission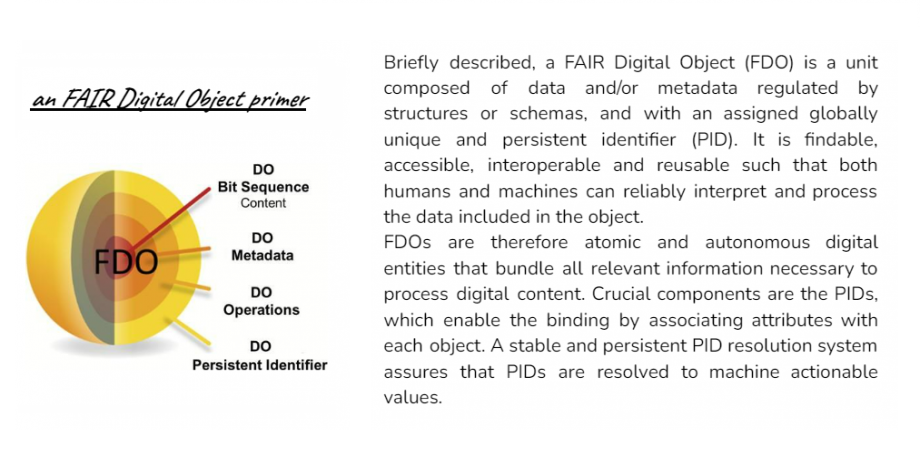 About the conference
For the first time at this scale, the FDO2022 conference will bring together key science and industry researchers, technologists, policy makers, and funders engaged in advancing FAIR Digital Objects (FDOs), and will feature a mix of invited presentations, panels, posters and demonstrators.
The major events of the conference will take place in the main conference hall of Naturalis Biodiversity Center, Leiden, The Netherlands, and working group presentations and demonstrator sessions will occur at a nearby venue. Plenary sessions will be live-streamed and breakout sessions will be recorded.

The conference has three themes, two of which, research and practice, are the subject of this call:
Research on the FDO paradigm as a means to structure the domain of knowledge, and how to facilitate the practical work of science and industry.
Practice on the design and building of FDO-consistent infrastructures, systems such as repositories, and tools that operate on data.
Policy- and decision making perspectives that facilitate global adoption and employment of policy frameworks related to the implementation of data spaces populated with FDOs.
Major objectives of this conference:
Present and discuss practical implementation frameworks for FDO architectures;
Present successful case studies where FDOs have been implemented and/or applied;
Endorse technical specifications and initiate needed national and international formal standardisation processes;
Document and propose solutions that facilitate global adoption of FDOs across science, industry, and society;
Strengthen and enlarge the global coalition of relevant actors.
Abstract submission
We are soliciting submission of extended abstracts (~1000 words, not including (max 1 page) references, and tables/figures). A Lead Editor will review each abstract for timeliness and relevance, substance and soundness, clarity and impact for acceptance. Posters should be size A0 and may be invited to give lightning talks. Submissions should clearly indicate (i) how the work relates to the FDO concept, (ii) whether it concerns conceptual work, implementations or applications, and (iii) whether the submission is a presentation or poster. Submissions should be consistent with conference themes and objectives and address FDOs, in particular:

The use of the FDO concept for structuring the emerging domain of disciplinary and interdisciplinary knowledge in the research domain.
The importance of FDO abstraction, binding and encapsulation properties for data-driven research.
The use of FDOs in data-driven projects/or processes from a researcher's and/or a technologist's perspective using different approaches .
Reports on implementations of FDOs and associated components such as PIDs, PID Profiles, PID Attributes, Types, Type Registries, DOIP, FDO compliant repositories, Signposting, etc.
Plans and use of FDOs to implement workflows.
The application of FDOs in research-based education or in specific skills development.
Showcases where FAIR Implementation profiles led to a change of practices towards FDO usage.
Experiences of adopting an FDO approach to infrastructures and pathways to adoption
Other work where the concept of FDOs is in the focus.

QUESTIONS REGARDING the ARPHA ABSTRACT SUBMISSION PROCESS? journals@pensoft.net

Abstract submission instructions
Begin Abstract submission
Presenter Guidelines
Good to know
PUBLICATION All accepted conference abstracts will be published in the open access journal, Research Ideas and Outcomes (RIO), hosted by Pensoft.
By participating in FDO 2022, you agree to abide by our Code of Conduct and General Terms and Conditions.
The FDO 2022 conference language is English. All abstracts need to be submitted and presented in English and only abstracts written in English will be considered for review.
Code of Conduct
General Terms and Conditions
Important dates
| | | |
| --- | --- | --- |
| Submission Deadline of Extended Abstracts | | 10 July 2022 |
| Acceptance Notification | | 31 August 2022 |
| Authors of Accepted Abstracts Must Register for the Conference | | 19 September 2022 |
| 1st International FDO Conference | | 26 - 28 October 2022 |
More info / Contact
Conference website
About Fair Digital Objects (FDOs)
Canonical Workflow Framework for Research (CWFR)
Fair Implementation Profiles and Practices (FIPP)

ARPHA Abstract Submission Process: journals@pensoft.net
Content / Meeting Related: abstract@fdo2022.org
FDO Forum: secretariat@fairdo.org

Last updated 20 June 2022

Contact us
If you want to receive updates of the programme, the keynotes and more, or if you have any questions.

Send us an email. We're happy to help.