General
The abstract submission call is now closed. It is no longer possible to submit an abstract.


Abstracts are required for all scheduled oral presentations and posters and must be submitted by 10 July 2022. Abstracts will be published in Research Ideas and Outcomes (RIO) hosted by Pensoft. Because abstract publication fees are included in conference registration, all presenters must be fully registered to participate in the conference by 19 September 2022.
The Program Committee reserves the right to schedule accepted abstracts to fit space and time constraints, as well as the right to limit the number of oral presentations by any single presenting author.
Abstracts should be written in English for a general audience, providing context and avoiding unexplained jargon.
Abstracts will be published with digital object identifiers (DOIs) upon acceptance and after any registration fees have been paid.
We are soliciting submission of extended abstracts [~1000 words, not including (max 1 page) references, and tables/figures]. You will be writing your abstract in Pensoft's ARPHA online writing tool. ARPHA provides a pre-submission collaboration environment for co-authors (although only one person at a time) throughout creation and revision of the draft whereby non-author contributors such as linguistic editors, may be given access to your abstract.
After submitting the abstract for review, a Technical Editor will assess it for timeliness and relevance, substance and soundness, clarity and impact for acceptance. Posters should be size A0 and may be invited to give lightning talks. Submissions should clearly indicate in body text (i) how the work relates to the FDO concept, (ii) whether it concerns conceptual work, implementations or applications, and (iii) whether it is a presentation or poster in the 'Presented at' ARPHA field (see #10 below). Submissions should be consistent with conference themes and objectives and address FDOs, in particular:
The use of the FDO concept for structuring the emerging domain of disciplinary and interdisciplinary knowledge in the research domain.
The importance of FDO abstraction, binding and encapsulation properties for data-driven research.
The use of FDOs in data-driven projects/or processes from a researcher's and/or a technologist's perspective using different approaches .
Reports on implementations of FDOs and associated components such as PIDs, PID Profiles, PID Attributes, Types, Type Registries, DOIP, FDO compliant repositories, Signposting, etc.
Plans and use of FDOs to implement workflows.
The application of FDOs in research-based education or in specific skills development.
Showcases where FAIR Implementation profiles led to a change of practices towards FDO usage.
Experiences of adopting an FDO approach to infrastructures and pathways to adoption
Other work where the concept of FDOs is in the focus.
Email Communications
Email communications within ARPHA are limited. Only the submitting author will receive notifications from the editor. Email exchange between the submitting author and Technical Editor may be necessary before abstracts are accepted for publication. Be sure to train your email system to recognize and permit emails from pensoft.net.
Customized and detailed instructions are provided here below, however, if you require further help, see:
in the ARPHA module, send an email to 'Helpdesk' in the top black ribbon
for technical submission questions journals@pensoft.net
for content/meeting-related questions abstract@fdo2022.org
When requesting email assistance, please include the ARPHA ID of your abstract in the subject line.
Begin Abstract submission
FREQUENTLY ASKED QUESTIONS
Presenter Guidelines
Pensoft / ARPHA Registration and login
1. Go to https://riojournal.com/ and 'Login' if you already have a Pensoft account, and 'Register' if you don't.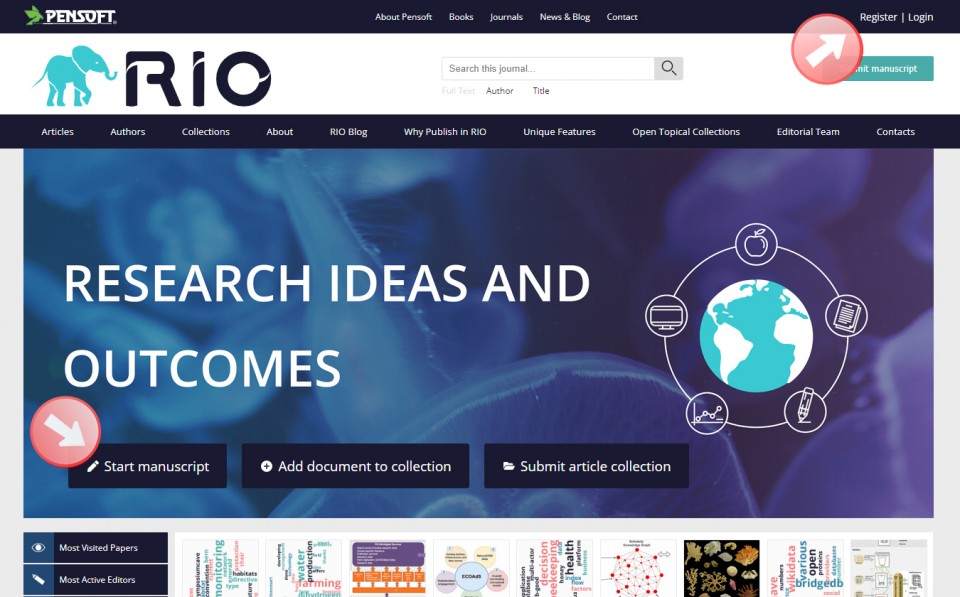 2. After logging in, click on 'Start manuscript' or 'Submit Manuscript'.
3. Select the 'Conference Abstract' article type in the left column, then click on the 'ARPHA Writing Tool' button below. This will transfer you to ARPHA which creates a new untitled manuscript.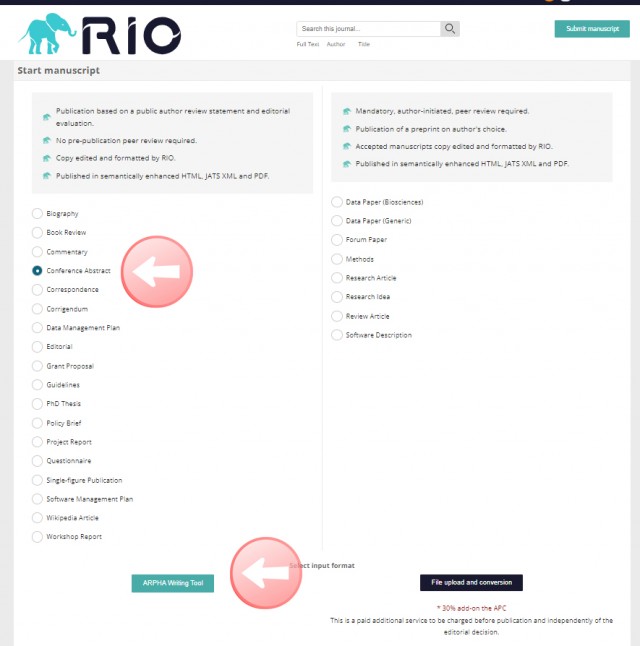 NB: If needed, you can leave your abstract in draft here as it will have been assigned an ARPHA identifier with you as submitter and you will receive an email verification that a draft abstract has been created in ARPHA (from awt[at]pensoft[dot]net). However, you are strongly encouraged to continue by filling out the required fields (Title, Author, Abstract, Keywords, Presenting Author, Presented At, and Collection). See submission guidelines below.
Do not create more than one draft for an abstract that you intend to submit.
To view existing drafts, click on the "My drafts" button on your RIO dashboard.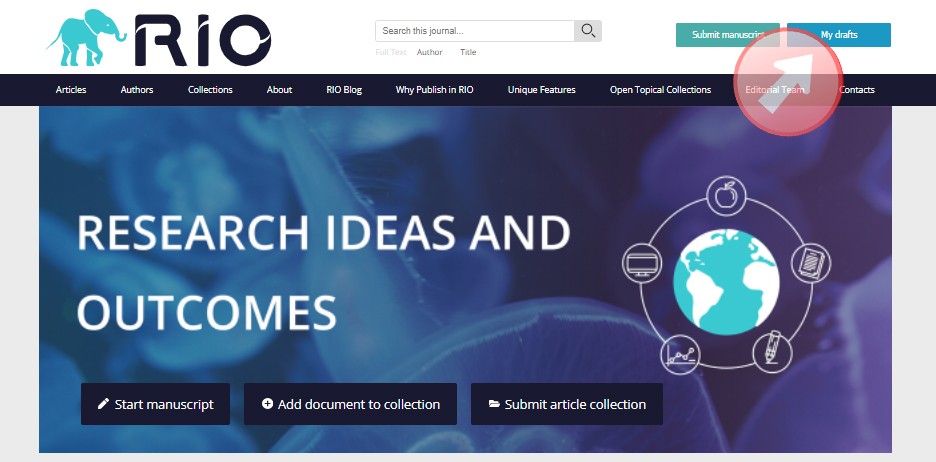 Abstract submission (ARPHA writing tool)
In ARPHA's abstract submission window:

Any option in the left hand column can be selected by hovering over the name and clicking its edit (pencil) icon (with the exception of 'Authors' and 'Contributors' - just click the name).
Modules requiring input here are Title, Abstract, Keywords, Presenting author, and Presented at (#6-10 below). The abstract Collection must also be designated but that is done during the submission process (see Finalize and Submit to Journal, Step 2).
4. Authors
Corresponding Author: The author who starts and submits the abstract is by default, identified in ARPHA as both the first and corresponding author. ARPHA fills-in abstract metadata based on the submitting author's account profile. The corresponding author is the coordinator and liaison with the journal during the manuscript submission, review, and publication process and is the individual to whom post-publication correspondence should be addressed.
Clicking on 'Authors' in the left column allows you to:
edit author metadata
designate editing rights
designate corresponding author
add Co-authors who will be notified that they have been added via a customizable auto-generated Pensoft email. However, it is ultimately the Corresponding Author's responsibility to notify all authors of their author status and editing rights.
change author hierarchy (with the up/down arrows).
In the Authors module, ensure that affiliations are added for all authors, and identify their editing rights and whether they are the corresponding author. If two or more authors share the same affiliation, please make sure to input it exactly the same way for each one. This way the system will recognize this as the same affiliation, and mark this in the metadata accordingly.
5. Contributor
The Contributors module provides the opportunity for author's to invite editors, mentors, colleagues or friends to collaborate on the abstract during creation and revision of the abstract prior to submission, or post-submission when the abstract is in 'draft' status. After adding a contributor, the invitee is sent a customizable email to let them know they've been added as a contributor.
6. Title: Fill-in the title of your abstract in the 'Untitled' box.
All major words should begin with a capital letter (Title Case) with only the first word capitalized after a colon, unless it is a proper noun. Use italics for scientific names.
Correct: This is the Title of my Awesome Talk: Presented at FDO2022 in Leiden, The Netherlands
Incorrect: This is the title of my awesome talk: presented at fdo2022 in Leiden, The Netherlands
Incorrect: THIS IS THE TITLE OF MY AWESOME TALK: PRESENTED AT FDO2022 IN LEIDEN, THE NETHERLANDS
Incorrect: This is the Title of my Awesome Talk: Presented at FDO2022 in Leiden, The Netherlands
7. Abstract Text
Word limit: We are soliciting submission of extended abstracts [~1000 words, not including (max 1 page) references, and tables/figures] that are consistent with conference themes, objectives and the topics specified above.
Language: Abstracts should be written in English for a general audience, providing context and avoiding unexplained jargon.
Acronyms/Abbreviations: Expand all abbreviations and acronyms on first use including institutional, organizational and country abbreviations in all submissions including supplementary materials. Exceptions are 3D, API, DNA, RNA, GIS, HTML, WWW, URL, URI, XML, RDF, JPG, TIF, TIFF, PDF.
Hyperlinks: Please consider embedding hyperlinks (URLs) to institutions and concepts that will help readers to more fully appreciate the topic you are presenting. This can be especially helpful for jargon. Be mindful of persistence (not having future users find broken links) if you choose to do this. ARPHA instructions are available here.
8. Keywords
List searchwords that readers might use to find your content, however, do not use words already occurring in the abstract title.
Separate each keyword with a comma (not a semicolon).
Only capitalize proper nouns; do not capitalize the first keyword unnecessarily.
9. Presenting Author
The Presenting Author is the person who will deliver the live presentation at the conference. Type in the name of the presenter here exactly as their name is listed under Authors. If there are multiple presenters, separate the names with a comma.
The presenting author must be fully registered for the conference by the time the abstract is approved for publication.
10. Presented At
This is where the author identifies whether the submission is a presentation or poster. Fill-in the 'Presented At' box with the precise name of the conference (see examples below) followed by a comma, and whether your submittal is a presentation or poster.
e.g., "First International Conference on FAIR Digital Objects, presentation"
e.g., "First International Conference on FAIR Digital Objects, poster"
11. Supplementary materials
The remaining modules are optional, however if desired, you may add references (max 1 page) and other tables or figures associated with the abstract. Create the resource first by hovering and clicking on its 'edit' or 'add' icon, and then link it to an in-text citation.

Any figures, images, or media used in abstracts or presentations must be credited with their copyright status, even if they are your own.
Submit for Technical Review
12. Please proofread your submission carefully including but not limited to checking or ensuring:
spelling
all acronyms and abbreviations have been expanded at first use
references to published work have been properly added
all images have been credited with licensing information
all authors have agreed to content.
13. Click the Validate button
This will check for omissions (e.g., ensure mandatory fields are filled in, the ARPHA character limit is not exceeded) or errors flagged by the system (unresolved track changes or comments).
Begin Abstract submission
FREQUENTLY ASKED QUESTIONS
14. Submit for Technical Review
(submitting author must complete by 10 July 2022)
When ready, click the 'Submit for Technical' review button (below the 'Validate' button). Clicking this button sends your abstract to the editors for consideration to be included in FDO 2022. You should receive an auto-generated confirmation email. On your ARPHA dashboard, the status of the manuscript will change to 'In pre-submission review' and the document will then be in read-only mode for authors. Editing rights will only be returned to you once you have received official notice that feedback has been requested. In the meantime, please do not ask technical editors to make changes.
Feedback and Revisions
The technical editor may accept or reject your submission, or may send feedback requesting changes, and/or indicate that your abstract is being moved to a different (sub-)collection or format (e.g., oral to poster) for programming reasons.
15. Promptly make requested changes to abstracts. When all requests have been addressed, send the abstract back to the Technical Editor for review ('Submit for Technical Review').
If a submission is returned to you for changes, its status will return to Draft. (You can see the document's status on your dashboard. You can refer to ARPHA guidance here. Only you or other authors with editing or commenting privileges will have access to the abstract in this status. When all requests have been addressed, send the abstract back for technical review. Your manuscript may require more than one cycle of revision so please address communications promptly.
Finalize and Submit to Journal
Once the submitting author receives notification that the abstract has been approved, they must go through the following steps to finalize and submit the abstract to the journal for publication.
16. Proofread. Double check the name of the presenting author and proofread the abstract.
17. Validate. Click the validate button to ensure that there are no lingering errors or omissions. See ARPHA guidance here. Click on the blue text for each issue to resolve it. A successful validation will only show the number of characters in your abstract.
18. Submit to the Journal. When you are ready to submit your abstract for publication, click the 'Submit to the Journal' button and then go through the (long) checklist of submission steps. If you do not see the 'Submit to Journal' button, the abstract may not yet have been approved or you may not be listed as the submitting author in ARPHA.
Steps

Step 1: Start your submission, has to do with agreeing to the terms and conditions and selecting the publication license.
Submission Preparation checklist (check all boxes)
Licensing and Copyright Options. The default is CC BY 4.0 with copyright attributed to the authors. However, if any author is a U.S. or Canadian government employee, you must specify CC-0. Any other issues should be referred to the journal's help desk.
Data Publishing Policy Agreement
Personal Data

Step 2: Submission metadata is a read-only section for information except for the last item where you must select the Collection 'First International Conference on FAIR Digital Objects' from a drop down menu listing all the active collections in the journal. This is required.

Step 3: Submission metadata: If applicable, the author selects the scientific subject and Sustainable Development Goal (SDG) categories.

Step 4: Article Processing Charge (APC) Payment Options: Scroll down and select the 'I have a special agreement via direct contact . . . . ', and in the free text box, input 'Full fee waiver. APC to be paid by First International Conference on FAIR Digital Objects 2022'.

Step 5: Optional Services: Please skip this page and click 'Next'.

Step 6: Pre-submission Review Statement: Select 'Presented at a Conference'; First International Conference on FAIR Digital Objects 2022; link = fdo2022.org. This information will display in the published abstract and will state that the abstract was presented at the FDO conference.

Step 7: Invite post-publication reviewers (optional): Please skip this page (not for abstracts) and click 'Finish'.
The screen should say 'The document has been submitted successfully' and you will receive a system-generated Submission ID. This will generate an email to the Lead Editor that the abstract has been submitted to the collection and awaits approval for addition to the collection and publication.

Incomplete Submission
If, after your manuscript has been approved, you fail to complete all of the steps in the previous section, you may see it tagged as Incomplete Submission in your ARPHA dashboard, even though a RIO ID has been assigned to it. Because this now has a RIO identifier, you must access actions to complete the submission (or delete it) via the RIO dashboard. Please go to: RIO / My tasks / My manuscripts / Incomplete. Then click on the abstract's title and either delete it, or complete the submission process. ARPHA guidance is available here.

You will be notified of abstract acceptance by 31 August 2022.
Begin Abstract submission
Frequently Asked Questions
Presenter Guidelines